Introduction
AXELOS is the owner of ITIL. AXELOS determined that ITIL v3 no longer met the requirements of the modern business environment. It therefore launched ITIL v4 in 2019:
To reflect the fast-paced and complex environment of the world today;
To offer IT departments new ways of working and emerging practices;
To provide organisations with comprehensive guidance for IT management in the current service economy.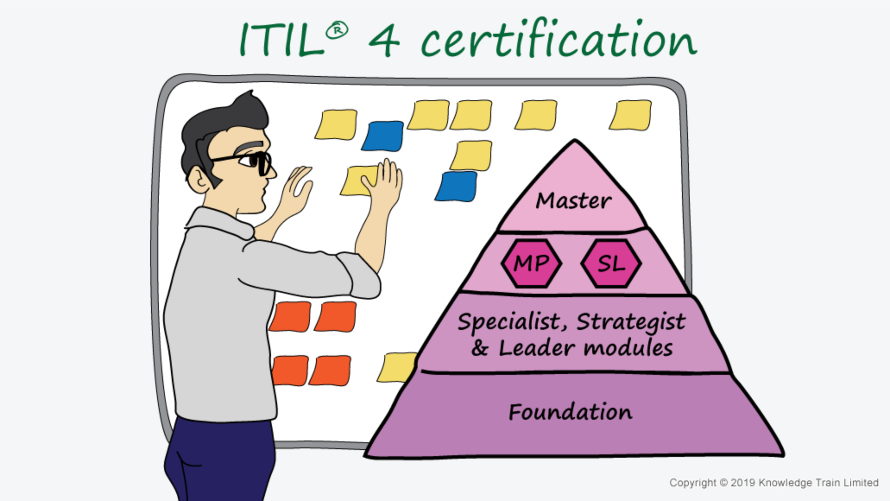 You can find out about ITIL v3 or ITIL certification in general by clicking one of these buttons:
Studying for ITIL v4 certification
You can study for ITIL 4 certification by either:
attending a classroom course; or,
attending a virtual class via live online training; or,
by self-studying using an ITIL Foundation online course.
ITIL v4 certification levels
To gain ITIL v4 certification requires you to pass examinations at the following levels:
1. ITIL Foundation certification
ITIL Foundation is the first step to climb on the ITIL certification path. The syllabus for ITIL v4 Foundation consists of:
ITIL practices;
The guiding principles of ITIL 4;
Key concepts from Lean, Agile and DevOps;
The four dimensions of service management;
The concept of value with customers and stakeholders in the form of products and services.
After passing the ITIL Foundation exam, you will be able to choose to go through either the Managing Professional, or the Strategic Leader routes.
2. ITIL Managing Professional certification (MP)
In this level, professionals learn how to run successful IT enabled services, teams and workflows.
There are 4 modules in this level:
ITIL Specialist Create, Deliver and Support;
ITIL Specialist Drive Stakeholder Value;
ITIL Specialist High Velocity IT;
ITIL Strategist Direct Plan and Improve;
3. ITIL Strategic Leader certification (SL)
In this level, professionals learn how IT influences and directs business strategy.
ITIL Strategist Direct Plan and Improve (a common module with Managing Professional);
ITIL Leader Digital and IT Strategy.
4. ITIL Master certification
To be awarded ITIL Master, you need to complete both MP and SL certifications. You will need to prove experience and deep knowledge of ITIL as well.
Transition from ITIL v3 to ITIL 4
There is no transition module to ITIL Foundation v4 if you are already an ITIL v3 Foundation certificate holder. You must study ITIL 4 Foundation to become familiar with the new version.
AXELOS has designed an ITIL Managing Professional Transition Module. It is designed for ITIL v3 candidates who are ITIL Experts. Candidates who have achieved 17 credits from across the v3 scheme are included too.
ITIL 4 certification path infographic
This infographic shows the ITIL v4 certification pathway.