Are you considering taking a PRINCE2 course? Read on to find out how PRINCE2 benefits your career and your organisation and the advantages and disadvantages of PRINCE2.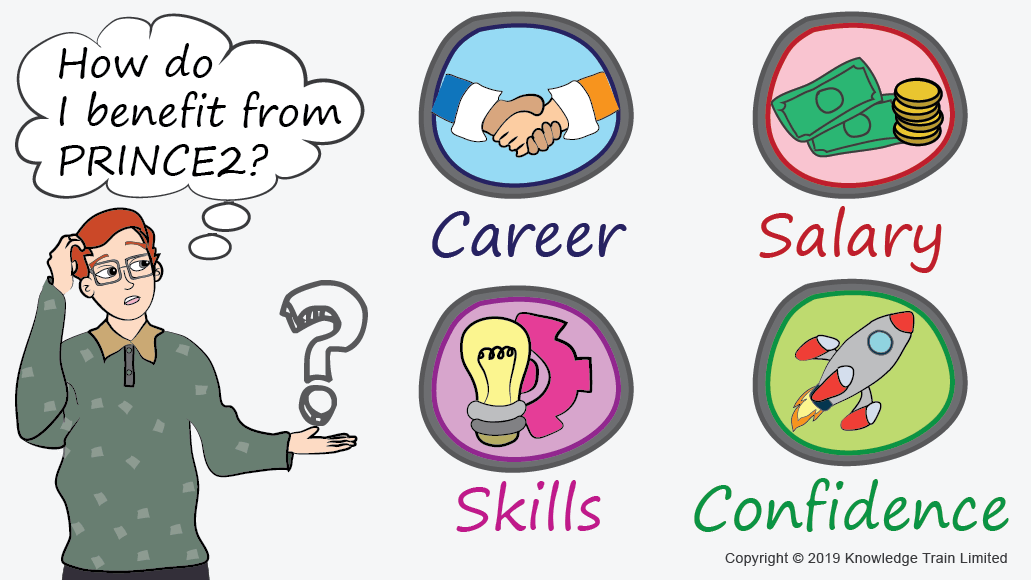 How does PRINCE2 benefit me?
As an individual becoming PRINCE2 certified gives you 4 key benefits.
1. Career
Gaining PRINCE2 certification can boost your job prospects. Without a PRINCE2 qualification in the UK you are unlikely to make it to interview.
2. Salary
Gaining PRINCE2 can boost your earnings. In 2019, jobs in the UK requiring PRINCE2 ranged between £30-75k (according to www.indeed.co.uk).
3. Skills
Studying PRINCE2 will give you some core project management skills to take part in or manage projects.
4. Confidence
Your PRINCE2 knowledge can boost your confidence to apply it at work.
How does PRINCE2 benefit my organisation?
PRINCE2 offers an organisation many benefits.
1. Best practices
PRINCE2 embodies best practices. It is a proven approach to managing projects.
2. Generic
PRINCE2 is generic. Use it on any project in any industry or sector.
3. Communication
PRINCE2 promotes better communication by providing a common vocabulary.
4. Accountability
It makes people accountable by defining roles and responsibilities.
5. Outputs
PRINCE2 focuses on what a project delivers. It concentrates minds on how the outputs will benefit the organisation.
6. Adaptable
PRINCE2 can be adapted to suit the needs of each project.
7. Saves senior managers' time
PRINCE2 does away with regular progress meetings. Instead it depends upon reports. This saves time for busy senior managers.
8. Business-focused
PRINCE2 focuses on achieving benefits. This avoids a project becoming an end-in-itself.
9. Involves stakeholders
PRINCE2 encourages the involvement of stakeholders in decision-making.
10. Continuous improvement
PRINCE2 has an in-built mechanism for continuous improvement.
11. Consistency
PRINCE2 uses a common language. It promotes consistency and re-use of assets across projects.
All the benefits above are all great reasons to get your boss to fund your course.
PRINCE2 advantages and disadvantages
Advantages
Widely known
Easy to recruit people with certification
Based upon project management best practices
Is a full project management methodology
Can be used on any project type or size
Principles can be applied universally
Can be used with agile
Complements the PMBOK® Guide
Certification is quick (compared with PMP®)
No prior qualifications needed.
Disadvantages
Only has 2 tools and techniques (over 100 in PMBOK® Guide)
Doesn't cover soft skills
Easy to run PINO projects (PRINCE2 IN name Only)
Requires senior management buy-in to be successful
Requires experience to apply it well
Has (unfair) reputation that it's documentation-heavy
Has (unfair) reputation that it only supports waterfall approach.
PRINCE2 benefits infographic


Please use the code below to embed the infographic on your webpage:

PMI and the PMBOK are registered marks of Project Management Institute, Inc.